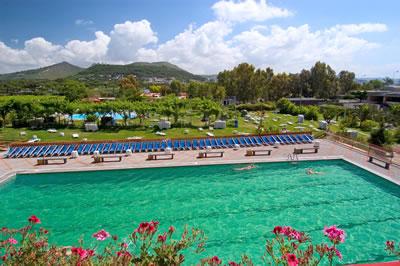 One Day Spa: a relax day near Naples
Between outdoor thermal pools, sauna, hydromassages ...
If you think it's time to dedicate a day of wellness, the One Day Spa offer at the Terme Stufe di Nerone is the ideal one to rediscover the right psycho-physical harmony.Think of a place surrounded by Mediterranean vegetation, pergolas and ponds of natural springs, thermal swimming pool, lawns and sunbeds to enjoy the warm sun or the coolness;Think of rest after a natural sauna or a bath in the thermal pool with hydromassage.And then, a healthy massage to amplify the benefits of the thermal water.
 In Italy the Stufe di Nerone Spa is one of the best centers where you can give yourself a real wellness day and maybe even give it to those you want. An original gift idea: a spa package that will delight those who receive it directly at home.
One day without clock:
During the day at the thermal park you can swim or pamper yourself in the outdoor thermal pool at 35 ° C even in the evening under the stars, immerse yourself in the natural hot (cave) heaters at 53 ° C (sudatorium) to remove all toxins, relax in a thermal pool at 39 ° C with horizontal whirlpools and bubbles for comfortable massages to the legs, abdomen and back and pleasant waterfalls for cervical hydro-massages, you can enjoy a gentle rest in semi-covered rooms (tepidarium) equipped with special chairs designed specifically to encourage the embrace of Morpheus.
The mild climate allows, for most of the year, to carry out outdoor heliotherapy on the green meadows of the spa, there must be two thermal spring lakes, one of which at 35 ° C with a rocky bottom and the other at 38 ° C with the seabed muddy.
Excellent herbal teas and original long-drink non-alcoholic drinks prepared at our bar make the day at the spa an event not to be missed.
who is recommended
Couples who want to share a day or a weekend at the spa
Families who want to experience a bit of relaxation and tranquility in a safe and controlled center, relaxing parents and having fun with their children.
Single ... after all the social function of the baths have been known since the beginning!
Friends / friends wishing to spend an original day together (maybe a bachelor / bachelor party)
Included
daily use of:
natural sauna;
indoor thermal pool with hydromassages and hydrojets;
thermal showers;
outdoor thermal pool;
internal warm and semi-warm rooms;
spa park with hot springs;
deckchairs and sun loungerslockers and locker rooms.
Notes:
Single entry is for one day and one person.
Single entry can be purchased EXCLUSIVELY through this website. It is not possible to purchase this type of entrance at the reception of the Spa.